SSC MTS Preparation Tips 2023 | Best Strategy to Crack Exam

SSC MTS Preparation Tips 2023: Here we have come up with the details regarding the SSC MTS Preparation Tips and Strategies!!! Candidates who are preparing for the SSC MTS Exam shall check out the SSC MTS Preparation tips tier 1 subject wise and prepare according to that. The Staff Selection Commission (SSC) conducts the SSC MTS exam 2023 for the recruitment for the post of Multi-Tasking (Non-Technical) Staff in Different States and Union Territories all over India. A huge number of candidates have applied and eagerly preparing for the examination. The selection process is based on Tier 1, Tier 2 and medical examination. The competitive level of the examination becomes very high. So candidates have to prepare very hard to successfully compete the heavy competition. To achieve the success candidates should gear up their preparation with the SSC MTS preparation tips tier 1 and SSC MTS preparation strategies subject wise. Here in this article, we have shared the expert's SSC MTS Preparation Tips 2023 to crack the exam with ease. This session will lead you on the right path. So aspirants who want to ace the exam shall travel with us.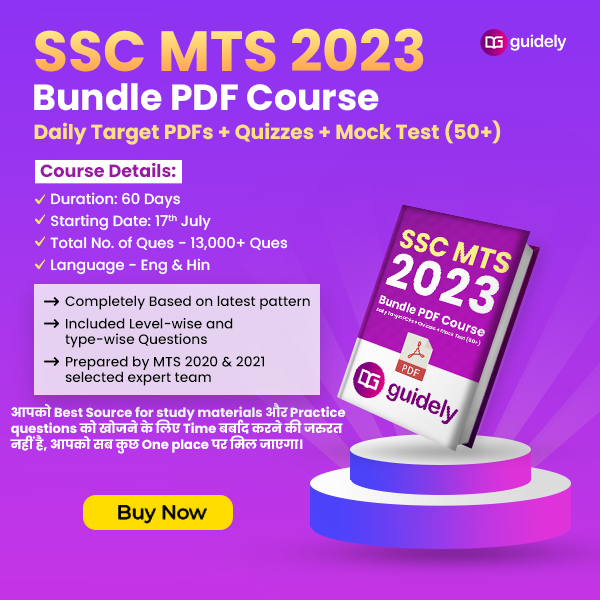 Download SSC MTS Syllabus 2023 PDF
Table of Content
SSC MTS Selection Process 2023 :
Before entering the SSC MTS Preparation Tips 2023, candidates have to get knowledge of the SSC MTS selection process. This will give you an idea regarding the examination and according to that, you can start the preparation process. The SSC MTS selection process involves:
(i) Tier-1
(ii) Tier-2
Paper 1 will be an online computer-based test. It consists of four sections namely General Awareness, Numerical Aptitude, English, and Reasoning.

25 marks have been allotted for each section. So paper 1 will be conducted with a total of 100 marks.

0.25 marks will be deducted for every wrong answer.

Paper 2 will be a descriptive type written test. In this candidates will be required to write an essay of 150 words or a letter of 75 to 110 words within 30 minutes.

The total weightage of Tier 2 is 50 marks.
Ok, let's move on to how to prepare for SSC MTS Exam 2023, which provides you a lot of useful tips subject-wise.
Check latest updates about SSC MTS Result 2023
How to Prepare for SSC MTS Exam 2023?
The competition for the govt exams is increasing day by day, therefore, it is necessary for aspirants to do a strong preparation. The strong preparation depends on the proper study plan, effective preparation strategy, Best study materials, and consistent practice. Candidates who follow those things will surely grab the exam within a short duration. To avoid the last-minute pressure and anxiety, the aspirants should start their preparation on the right path. The motive of this article is to provide the preparation strategy of all the sections and tips to crack the SSC MTS exam 2023.
Check out SSC MTS Apply Online 2023
SSC MTS Preparation Tips 2023
In order to find candidates for various non-technical, ministerial, and field-level positions in various central government ministries and organisations, the Staff Selection Commission (SSC) holds the Multi-Tasking Staff (MTS) test. The following SSC MTS Preparation Tips 2023 will help you study for the upcoming SSC MTS exam:
Get acquainted with the exam pattern and syllabus: Make sure you are well acquainted with the exam's syllabus and pattern. On the SSC website or in the official MTS test notice, you may obtain the syllabus and exam format.

Collect Best Study Materials: Based on the syllabus and exam pattern, collect the study materials and previous year's question papers.

Practice last year's papers: Finishing last year's exams will help you have a better understanding of the sorts of questions that will be asked on the MTS test as well as their difficulty level. So candidates must be aware of the SSC MTS Previous Year Question Papers.

Preparation Notes: Make prepare the SSC MTS Preparation Notes PDF simultaneously which will help you in revision time.

Create a study plan: For the MTS exam, having a well-structured study strategy is crucial. Divide your attention amongst the many subjects, giving the ones you are less strong at more time.

Focus on your strengths and weaknesses: Spend more work on the subjects you are poor in after determining your strengths and weaknesses.

Practice mental math: For the MTS exam, practice your mental math abilities because certain questions may demand you to make rapid calculations. For increased accuracy and speed, practise mental calculations.

Take mock tests: By practicing mock tests, you may better understand your strengths and shortcomings and pinpoint your areas of improvement. Additionally, it will help you develop your time management abilities and become accustomed to the exam structure. After the completion of the entire syllabus, start practising the SSC MTS mock tests.

Stay updated: As these subjects are covered in the MTS test, keep your understanding of current events and general knowledge up to date. For this, you can read newspapers, watch news channels, and adhere to internet sources.

Revision:

Aspirants are advised to make revisions twice or thrice. In order to avoid anxiety, revision is an essential one.

Use

SSC MTS practice set free pdf

for efficient practice.
SSC MTS Study Material PDF Free Download
SSC MTS Preparation Tips 2023 - Subject wise for Paper 1
The SSC MTS Tier 1 exam 2023 is an objective type paper and it will be a Computer Based Test. Candidates who qualified the SSC MTS cut-off of paper 1 will be eligible to appear in Tier-2. The SSC MTS Preparation Tips Tier-1 subject wise have been given below for your reference.
Subjects

Marks

Number of Questions

Total Duration

General English

25

25

General - 90 Minutes

PwD - 120 Minutes

General Awareness

25

25

Quantitative Aptitude

25

25

General Intelligence
and Reasoning

25

25

Total

100

100
Here we have given the How to prepare for SSC MTS Exam Subject wise. Candidates scroll down the page, get it and implement it in the preparation session.
SSC MTS Preparation Tips Tier 1 for Numerical Aptitude:
Follow the SSC MTS preparation tips for aptitude.
The Aptitude section is literally an easier one compared to others.

Questions asked from this section are at the matriculation level. So you need to have a sound knowledge of fundamentals in all the topics.

SSC MTS exam numerical aptitude number systems, percentage, Ratio & Proportion etc are the topics that come under the aptitude section.

Practice more question sets and mock tests to enhance the speed and accuracy level.

Don't spend too much time on a single question. Try to solve within a short duration and move on to the next question.

This section consisted of a calculative part. It takes more time to solve. So candidates are advised to save time from the other sections.
SSC MTS Preparation Tips Tier 1 for Reasoning:
Take a look at SSC MTS preparation tips 2023 for Reasoning.
Logical thinking plays the main role in this section.

This is a highly scorable section, candidates can score as much as they can from this part.

Most questions will be asked from non – verbal types.

This section will test the candidates logical thinking and innovative ideas to deal with the complicated works.
SSC MTS Book PDF Free Download
Check out SSC MTS Vacancy List 2023
SSC MTS Preparation Tips Tier 1 for English:
Here are some useful tips on SSC MTS preparation tips for English.
This section needs the knowledge of basic grammar, vocabulary, and reading practice.

Candidates should focus on those topics to enhance their score.

Don't leave this section carelessly with less preparation. As it is very useful for both Tier 1 & 2 examinations.

To enhance the SSC MTS English language vocabulary, reading practice is very essential.
SSC MTS Preparation Tips Tier 1 for General Awareness:
Check here the SSC MTS preparation tips 2023 for the GA section.
This section consists of current events, static GK, history, geography, general science, politics, economics, computer knowledge etc.

Questions asked in SSC MTS Exam general awareness history, geography, general science, politics etc mostly from matriculate level.

For SSC MTS general awareness current events, candidates need to cover 6 months current affairs prior to the exam date.

Take SSC MTS Online Quiz to improve your accuracy.
SSC MTS Preparation Tips Tier 2
Check the tips for SSC MTS preparation tips tier 2.
This section needs to be a master in English knowledge.

Good grammatical knowledge will help you to write the content without the common grammatical errors.

During formal letter writing strictly avoid using phrasal verbs, idioms, a contracted form of words such as don't, can't, etc., and imperatives.

You should use Idioms, Phrasal Verbs, and contracted form of words in Informal letter writing.

Listen to the e-educational portal and get the strategy to write the examination.

You can download the previous years questions to get an idea of what type of questions have been asked.

You must read about the recent schemes that the government of India has launched.

Simultaneous reading & writing practice is the only thing to ace this exam successfully.
SSC MTS Preparation Tips 2023 FAQs:
Here we have given the common FAQs regarding the SSC MTS Preparation Tips 2023 Subject wise for your reference.
Q: Is SSC MTS easy to crack?
A: If you practice with dedication and consistency, it is easy to crack the SSC MTS Exam.
Q: How can I prepare for SSC MTS 2023?
A:
Make a proper study plan.

Collect the best study materials.

Complete the Syllabus.

Practice the previous year papers & mock tests.

Make revision.
Q: What is the SSC MTS salary?
A: After the 7th Pay Commission the in-hand salary of SSC MTS is approximately 18,000/ to 22,000/ per month.
Q: Which app is best for SSC MTS preparation?
A: App which provides the practice sets with trendy questions, previous year question papers are said to be the best one. Similarly, Guidely app provides you such things in which you can practice and enhance your score.