Guidely's Helping Hands Initiative 2022 - For VI Candidates & Scribers

Guidely's Helping Hands Initiative for Visually Impaired Candidates: Dear Aspirants, you all know Guidely has started this Helping Hands Initiative to support candidates who were facing various challenges in their Exam Preparation. As a part of this Initiative, we have provided all our packages free of cost for more than 600+ PWD Candidates (both in 2021 & 2022) through Guidely's Helping Hands Initiative for PWD Candidates. And last year we provided scholarships for the candidates who were facing Financial Struggle. We paid the fees of all 6 major Bank Exams for around 60 Candidates. Right now, we have come up with a New Initiative to support Visually Impaired Candidates.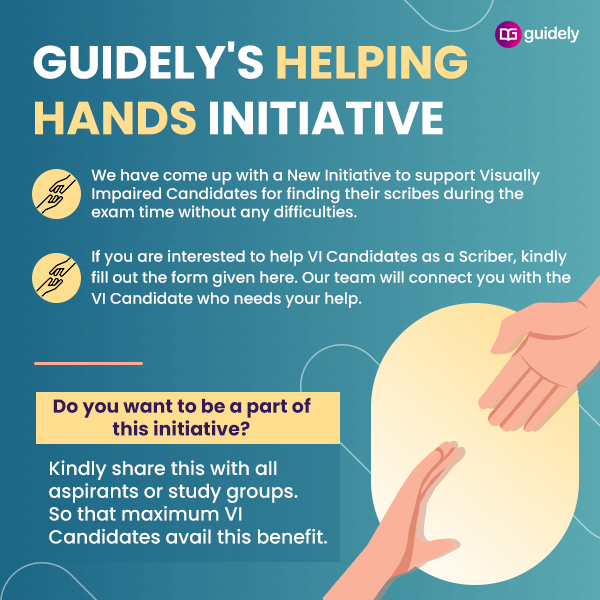 About This Initiative
A notable number of VI Candidates were preparing & appearing for the Bank Exams every year. IBPS & SBI has allowed taking a Scriber along with each VI Candidates. With the help of that Scriber, VI Candidates will write the examination.
The saddest part is VI Candidates are not able to find Scriber during the exam time. On other hand, many aspirants are ready to help VI Candidates as Scriber. Here Guidely is going to take a step to connect both of them.
Who Can be a Scriber?
A person who has already cleared the Bank Exams & currently working in the bank can appear as a Scriber.
A person who is very well aware of the Bank Exams Syllabus & Exam Pattern and has good experience in Bank Exams Preparation Segment and not attending that particular bank exams can appear as a Scriber.
A person with Good Experience in Bank Exam Preparation, who can't attend Bank Exams because of age limits can appear as a Scriber.
Note: A Scriber can't attend the same exam twice. If a person is attending SBI Clerk Prelims or Mains Examination for his own means, he/ she can't appear as a scriber for the same examination in that year.


How to Join as a Scriber?
If you are interested to help VI Candidates as a Scriber, kindly fill out the below-given form. Our team will connect you with the VI Candidate who needs your help.


I am a VI Candidate, how to get Scriber Support?
Kindly fill out the form given below and keep in touch with our support team via email ([email protected]) or via phone (9003786960 – 10 AM to 6 PM). We are here to assist you.

General Awareness Smart Analysis
Get Weekly 4 set Test
Each Set consist of 50 Questions
Compare your progress with Test 1 & 2 & Test 3 & 4
Deep Analysis in topic wise questions
Super Plan
Bundle PDF Course 2023

Ultimate Bundle PDF Course 2022

Grand Bundle PDF Course 2021

English Bundle PDF Course

Insurance & Financial Market Awareness Bundle PDF Course

Descriptive Papers for Bank & Insurance Exams

Interview Bundle PDF Course

General Awareness Smart Analysis

All Bank Exams Video Course

All Mock Test Series (Platinum Package)

All Premium eBooks
PRIME Bundle PDF Course 2023 (Daily Target PDF) - 5 Months
Exactly Based on Real Exam Pattern
Language: English and Hindi
Included with All New Pattern Questions
Covered All Major Bank (Pre + Mains Exams)
Answer key with video solution and Quizzes
Including Previous Year Memory based Questions
Prepared by Top Expert Faculties
Total 1,20,000+ Questions
5 Months Validity