Guidely's Helping Hands Initiative 2023 - For PWD Candidates

Dear Aspirants, Guidely has come up with an initiative to support PWD candidates for their effective competitive exam preparation. Guidely's Helping Hands Initiative was started last year to support PWD Candidates and make their dream careers come true. With all your support around 1000+ PWD candidates got benefitted from this Guidely's helping hands initiative last year. This year also we have come up with the same initiative to support more PWD Candidates. We need your support to reach maximum students. Kindly share this with all your friends & study groups. Guidely's Helping Hands Initiative is specially launched for PWD Candidates who need support for their preparation purpose. So that, it will reach everyone who is in need. This will be really useful for the PWD candidates and helps them crack the examination easily. Guidely's trending Bundle PDF Course 2023, Mock Test Packages, Rudra Batch Course, Warriors Batch, and all other courses and materials will be available for free.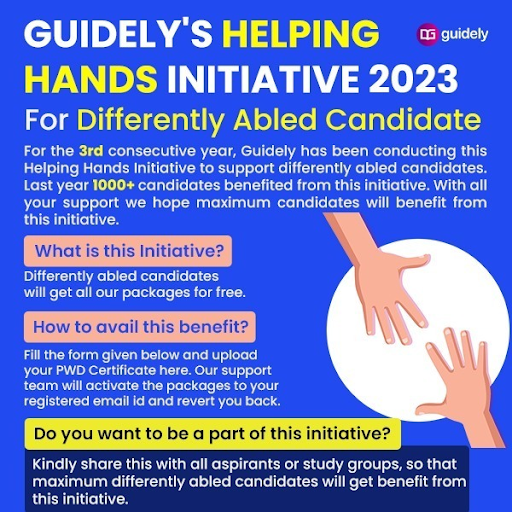 Fill Out The Form To Avail The Benefit
To avail of this kindly share your PWD Certificate to this email id: [email protected]. Our Support team will activate all the packages to your registered email id. Hence you can get all the study materials for free and make your enhanced preparation for the upcoming competitive exams. Guidely's helping hands initiative gives essential support to the PWD candidates to make their dream career possible. Make use of these study materials, mock tests & other courses and ace the examination with good scores. Help your friends activate the above-mentioned packages for free by sharing this information. We are glad that, we have supported you in your success. This is a genuine effort to support PWD candidates, so candidates should definitely utilize this opportunity of Guidely's Helping Hands Initiative. Mail us Now! Activate Our Trending Materials For Free!

General Awareness Smart Analysis
Get Weekly 4 set Test
Each Set consist of 50 Questions
Compare your progress with Test 1 & 2 & Test 3 & 4
Deep Analysis in topic wise questions
Super Plan
Bundle PDF Course 2023

Ultimate Bundle PDF Course 2022

Grand Bundle PDF Course 2021

English Bundle PDF Course

Insurance & Financial Market Awareness Bundle PDF Course

Descriptive Papers for Bank & Insurance Exams

Interview Bundle PDF Course

General Awareness Smart Analysis

All Bank Exams Video Course

All Mock Test Series (Platinum Package)

All Premium eBooks
PRIME Bundle PDF Course 2023 (Daily Target PDF) - 5 Months
Exactly Based on Real Exam Pattern
Language: English and Hindi
Included with All New Pattern Questions
Covered All Major Bank (Pre + Mains Exams)
Answer key with video solution and Quizzes
Including Previous Year Memory based Questions
Prepared by Top Expert Faculties
Total 1,20,000+ Questions
5 Months Validity