#hargaharbanker 75th Independence Day Special | 8th Anniversary – Guidely's Video Contest

Participate in Guidely's Video Contest Now!!! #hargaharbanker
On the occasion of India's 75th Independence day on 15th August 2022, Guidely team is also celebrating its 8th year anniversary. To make this celebration big, Our Guidely team is conducting a video contest for the aspirtants. The ultimate motto of Guidely is to provide financial independence to the aspirants who are preparing with an aim to crack their dream competitive exams. In this process of cracking their dream competitive exams, many aspirants face financial issues in their preparation. At all those moments, Guidely took over the charge of providing financial independence and morale boosters for the aspirants. It is evident from a lot of offers from Guidely last month. Many aspirants have owned the mock test packages at a never seen before offers. Also, Guidely has paid the examination fees for thousands of aspirants who struggle financially. This is the bond that Guidely has with aspirants to break the financial barrier of aspirants. #hargaharbanker
Now, coming to our video contest - This is to encourage all of you to express your preparation journey with Guidely. On the Occasion 75th Independence day & Guidely's 8th year anniversary, we pledge our campaign #hargaharbanker
Details of Guidely's Video Contest
Here are the complete details of the video contest. Read below to know what is about the contest, how to participate, last date, etc.
Contest Details - Make a video on your preparation journey with Guidely and how Guidely benefits your preparation.
Video Duration - Minimum: 60 seconds & Maximum: 3 minutes.
Contest Ends on - 13th August 2022 (6 PM)
You can share the videos through our sources given below:
Whatsapp number - 9003786960
Telegram number - 9003786960
Note - Kindly share the video along with your full name and photograph.
Here are the exciting rewards for the winners of our Guidely's Video Contest #hargaharbanker
Best 10 winners will get free access of all our packages till their selection.
Best 10 winners wil get an opportunity to have a video call with IBPS panel member and you will get motivation to crack the bank exams soon.
Participate & win all these Exciting rewards!!! All the Best!!! #hargharbanker
Fill this Form if You are Willing to Participate in this Contest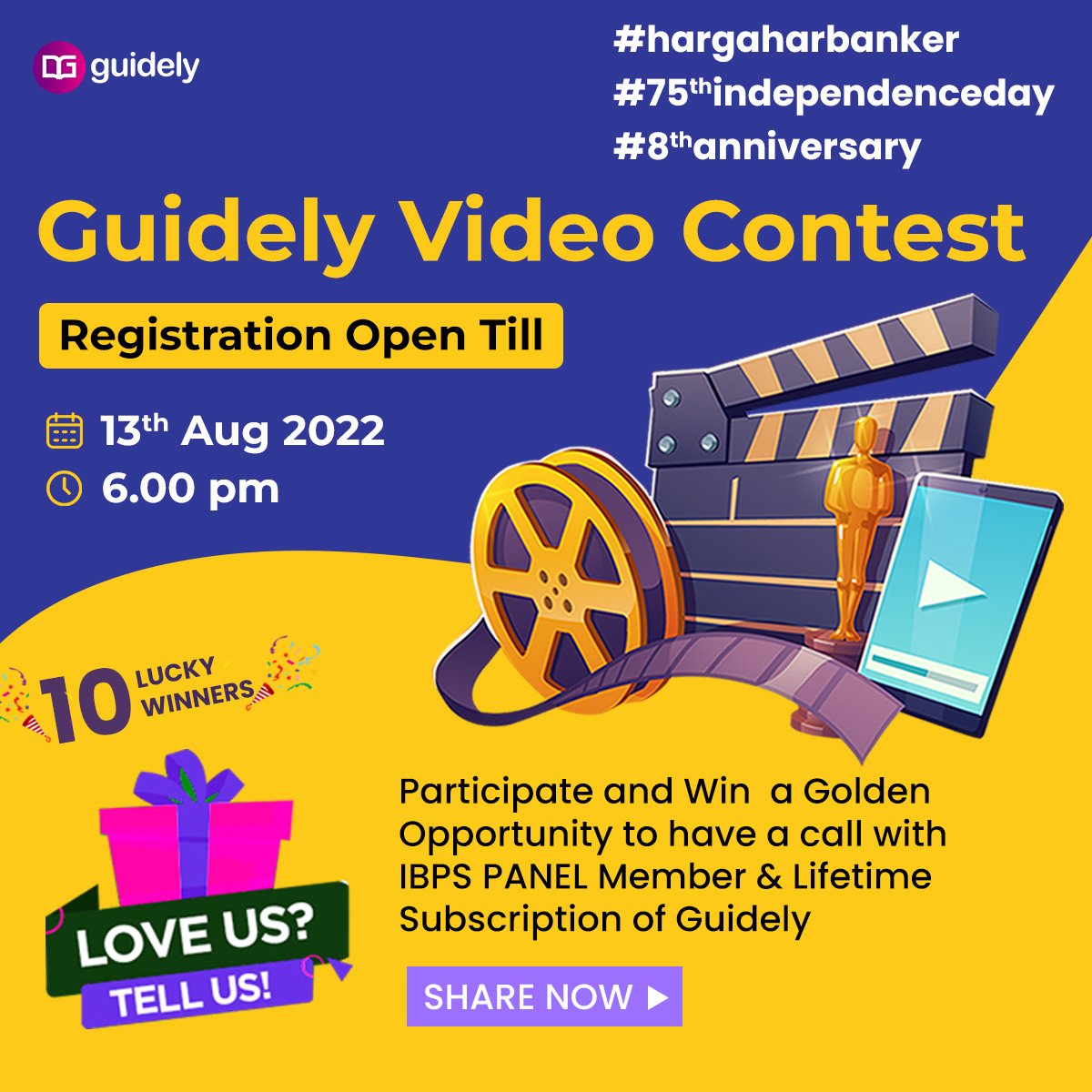 Don't Miss Any Update
Enter the valid e-mail id and subscribe to Guidely to get the latest updates on all job notifications, Study Materials, Mock Tests and our new launches.
Platinum Package
3000+ Mock Tests
Topic / Sectional / ebooks
Latest Exam Pattern
12 Months
Access Mobile app and Website
Premium Ebooks and RBI Grade B Phase II Not Included